Airline travel doesn't exactly rank up there on most people's lists of favorite activities. Whether you're flying out of Bob Hope Airport or LAX, you are going to have to contend with traffic on the way there, not to mention security checkpoints, overzealous TSA agents, cramped seating and the possibility of overbooked flights. It's enough to have anybody seek out Greyhound tickets instead! But bus travel is no picnic either. Sometimes, you have little choice but to fly to your destination. If you have hearing loss in Burbank, that can be even more of a hassle.
Tips for Flying with Hearing Loss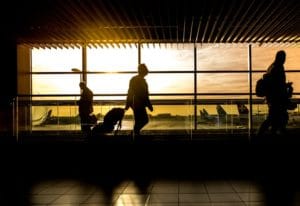 Hearing loss presents challenges in your everyday life. Traveling only compounds that! While we can't promise you a turbulence-free experience, the following tips should help ensure a smoother flight.
Do some advance planning. Before you even pack your bags, make a list of everything you'll need so you don't overlook important items. People with hearing loss in Burbank should include hearing aids (naturally!) as well as accessories such as batteries, cleaning supplies and a travel/storage case. It's a good idea to schedule a clean-and-check appointment with your audiologist before embarking to ensure your hearing aids are in good working order. We also suggest printing up all important information, such as itineraries, hotel reservations, etc. in case you get separated from traveling companions or experience language difficulties in a foreign country.
Inform TSA about your hearing aids. You won't have to remove your hearing aids when going through security checkpoints – x-ray equipment won't damage them in any way – but letting TSA personnel know you are wearing hearing aids will reduce the chances of a hard-core pat-down. If you aren't wearing your hearing aids when passing through the checkpoint, do not place them on the conveyor belt or inside plastic bins – doing so might cause static electricity to discharge, and this could damage your equipment.
Take advantage hearing loops. More and more public facilities, including airports, are being outfitted with hearing loops – wire coils that transmit electromagnetic signals directly to your hearing aids. This allows you to hear more clearly over background noise, helping you to get from Point A to Point B more efficiently. To use the system, just turn on the "telecoil" setting on your hearing aids and you'll be connected.
Don't stow hearing aids in the overhead bin. Your best chances of ensuring a smooth flight, other than avoiding the dreaded middle seat, are to wear your hearing aids the whole time. Don't worry about turning off these electronic devices and stowing them away; hearing aids will not interfere with the airplane's communications or controls. Putting them away increases your risk of missing important in-flight announcements or, worse yet, having them disappear.
Know your rights. The Air Carrier Access Act of 1986 was passed to provide airline passengers with hearing loss special rights. These include the right to indicate your need for special assistance during the booking process, information that will be added to the passenger manifest and distributed to flight attendants and gate agents; the right to request disability seating, usually located in the front of the aircraft in order to ensure the flight attendants are visible; the right to pre-board; and the right to the same communication access as all other passengers. Exercising these rights will help make your travel experience less stressful.
For more information on traveling with hearing loss – whether by air, sea, rail or interstate – talk to your Burbank audiologist.